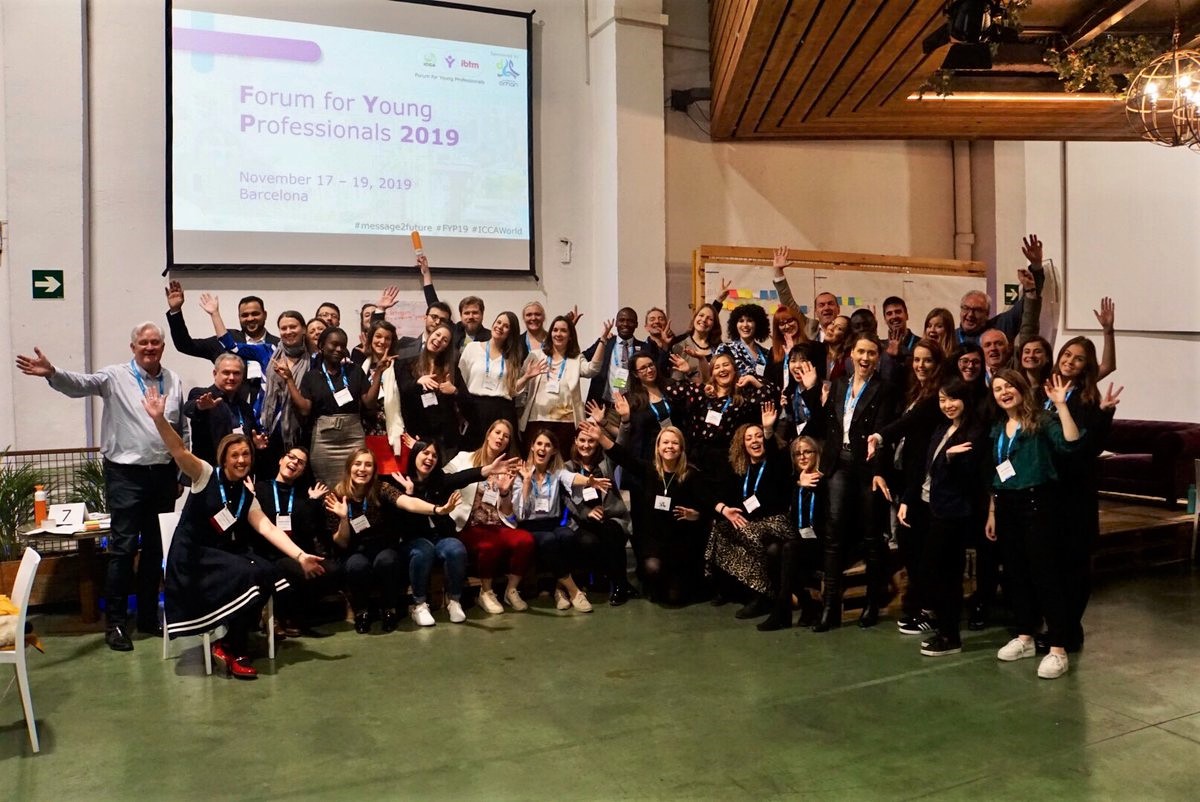 What an incredible experience it was to meet 36 young professionals (max. 30 years old and max. 3 years in the business events industry) and nine "mature" mentors at the ICCA Forum for Young Professionals (FYP) just some days before IBTM World in November 2019.
Last spring, ICCA asked us at ENITED to create and moderate the 2019 edition of FYP, and we took the chance to suggest ICCA to do it a bit different. To our great joy, ICCA accepted! Because it was a total new concept with the motto The Future is yours – it's time to break the rules! And we all did!
So here is the journey in short:
The participants had to make a video of their individual view on major challenges and obstacles for the business events industry in a 2-to-10-year perspective, as well as to hint some good ideas on how to solve them.
Arriving to a very "unconference" location in Barcelona, they all had to make their pitches of their challenges/ideas six times in front of their peers divided in smaller groups: "Listen to the voices".
The next step was to "identify the most convincing ideas", which consisted of choosing among these 36 pitches – cutting it down to about 15 challenges/ideas – to, again, select the group they wanted to attend for the next 48 hours.
In the end, they were asked to really scrutinize the challenges, boil them together and then "create new solutions" for them, to finally gather several suggestions on how to "make them happen".
So no lectures from us "mature" and experienced mentors and moderators. No "this is how we do it", no "these are the challenges we all have to look into", no "we have been around for a while, and we know the solutions".
The mentors were only supporting, guiding and encouraging the groups of students to think freely, think future, think out of the box and try to focus on The Why, The How and The What.
The goal for the FYP was to create an "Agenda for the Future of Business Events". Actually, I do not think that was fully achieved. But the energy among the participants, their will to take on quite complex and difficult issues and the development of the individuals was, in itself, an experience – for all of us.
The challenges we all looked into were:
Sustainability
Event design
Risk management
Organizing a business event with a low budget
Tools & techniques to attract & retain "people"
Maximizing technology for a less tech-savvy audience
How to (better) connect associations with suppliers
The last morning, the same day IBTM World opened, young professionals had to make a reality check by interviewing exhibitors and visitors on the floor, based on the issues they had discussed for two long days. What we expected to be a leisure half day for them to see the exhibition, ended in seven great oral reports with, again, new insights for all of us.
Having heard many voices after the event, we truly believe this format is a model for future events: participants have to create and choose the subjects, they really have to exchange ideas and experiences peer to peer, and step out from the comfort zone ("I sit here and listen to what they tell me"), which enables many of them to grow as individuals.
Thank you, young professionals and future leaders, for your contribution and your willingness to work within a very new and pretty loose framework. You made it far above our expectations.
Thank you our mentors: Guy Bigwood, Aileen Crawford, Ben Goedegebuure, Thorben Grosser, Gwladys Guillory, Isabelle Lechtman, Miguel Neves, Hugo Slimbrouck & Kai Troll for your free of charge, open minded and professional involvement during those three days experience.
Thank you to the sponsors Oman Convention Bureau and IBTM World.
Thank you ICCA for believing in this new format, and especially to Sina Bünte for her support and all the social happenings.