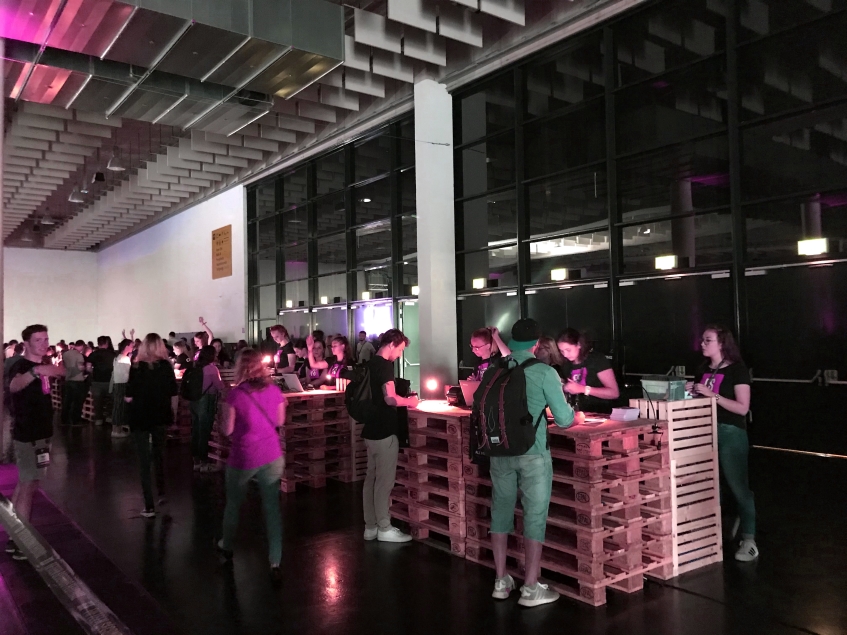 Yes, festivalization is transforming how we built events, and it has already started to influence our business events industry.
But it is a universal remedy for those unsuccessful and uninspiring events our industry produces every day?
For the second year in a row, I had the chance to attend the Fifteen Seconds (FS) festival in Graz, Austria's second largest city with close to 300.000 inhabitants, located in the southern part of Austria.  Born in that Styrian city, in only 6 years, the festival came from zero and became the hero, with over 6.000 participants and visitors. Now, for a city of that size, definitively a success, I would say, considering that not too many people have heard about Graz, and hard to believe, also not about the FS festival.
The festival lasts two days, and it is all about innovation, creativity and new technologies. The topics might not be exclusive of this festival, but definitively the format is. I never participate to any other event such as this one.
The FS festival already starts while queening outside the venue, waiting for the doors to open with a sea of people, hardly over 50, thinking how long you might have to wait at the check-in counters. Then, the doors of the Graz Stadthalle open and you get the first amazing surprise. A long row of desks made with recycled wooden pallets, each one with 3 young kids handling the badge and registering you, plus a myriad of helpers showing you the next available desk, and the vibrant music beat from a DJ desk makes you short 5 minute wait already an experience … and that's only at the entrance!
No plastic, no waste, no free congress bags, only hand crafted and recyclable goods are allowed for the exhibitors. Plenty of water and energy drinks and coffee for free, kindly offered by local and national sponsors, are greatly appreciated by the lots of students attending the show, and sponsored by their universities. It feels and is indeed a very good learning platform.
Design, is the word that fully describes the areas of presentations, the stages built for each one of the topics, the areas for entertainment you can use while waiting for the next session to start. Each year they come up with amazing ideas that will not necessarily go over the budget you have normally for an event. It is more a question of creativity, and daring to implement your craziest ideas in terms of staging and decoration.
You get blown away by what is happening there. It is a vibrant and amazing atmosphere, with mostly extraordinaire keynote speakers and presenters, from many different areas, giving you always a lot to take with you and implemented in your business life, but also on your private side of life.
A bit like the Cirque du Soleil concept, you never go from A to B along empty spaces or corridors. On the way you collect your experiences, with all your senses. And the amazing thing is that, everything you see, hear, smell, taste or touch has been carefully designed and chosen to fit in. It makes me think about the sadness & emptiness of the kilometres of hallways we sometimes have to walk at many of our industry's shows and events … and the desolate way to the cloakroom after that!
Like in any other gathering of this kind, there is also the opportunity to attend specific workshops, besides the many presentations going on. The networking possibilities are great, also after the sessions are over, and those areas as well as the rest of the spaces are carefully designed. Special mention deserves the stage dedicated to the start-ups, allowing anyone to present their projects. Here they get their own platform to showcase, and some of them are truly amazing.
The FS claim: "Designed for those who never stop learning", and it gives credit to each one of those words. Designing both relevant and out-of-the-box content for individual learning, creating mindful spaces and having those never-seen-before moments, it is actually a very simple and smart answer to the changing landscape of consumer. It is not anymore about the product or service, or the content or storytelling. It's all about experiences and the importance of story living in the "Age of Wow!" the future world of consumer's mind-set & behaviour.
But hold your horses! Does that mean it is the panacea and answer to all of our ailments?
As the past has shown us, we tend to either ignore completely or embrace fully those new "things". And those who do, get all excited and carried away with their "copy & paste" efforts. A simple word of warning: Be careful of the mouse trap!
I like to quote, in extracts, from an essay published by Maritz Global Events (November 2018).
Understand these 5 essentials for successfully implementing Festivalization.
The offerings must be focused on the ideal market for the event. Festivalization is not a one-size-fits-all trend.
Festivalization may involve working outside of the planning comfort zone by adding a completely different component to the event.
Don't be swayed by cool; select something meaningful to the audience which flows and strengthens the event objectives and vision.
Understand the strain it puts on venues, handling multiple spaces and stages, etc.
Bring in the experts. Even for event planners who have always handled all of the planning and implementation on their own, festivalization often requires a different team of experts.
I firmly believe in its potential and opportunities. Festivalization is about a movement, it's about community thinking and acting and it's about co-creation, sharing and collective experiences.
Hence, for the happy ending of my blog, our business events & live communication industry has a bright future. Who else is better suited to lead the way, from Storytelling to Story living!