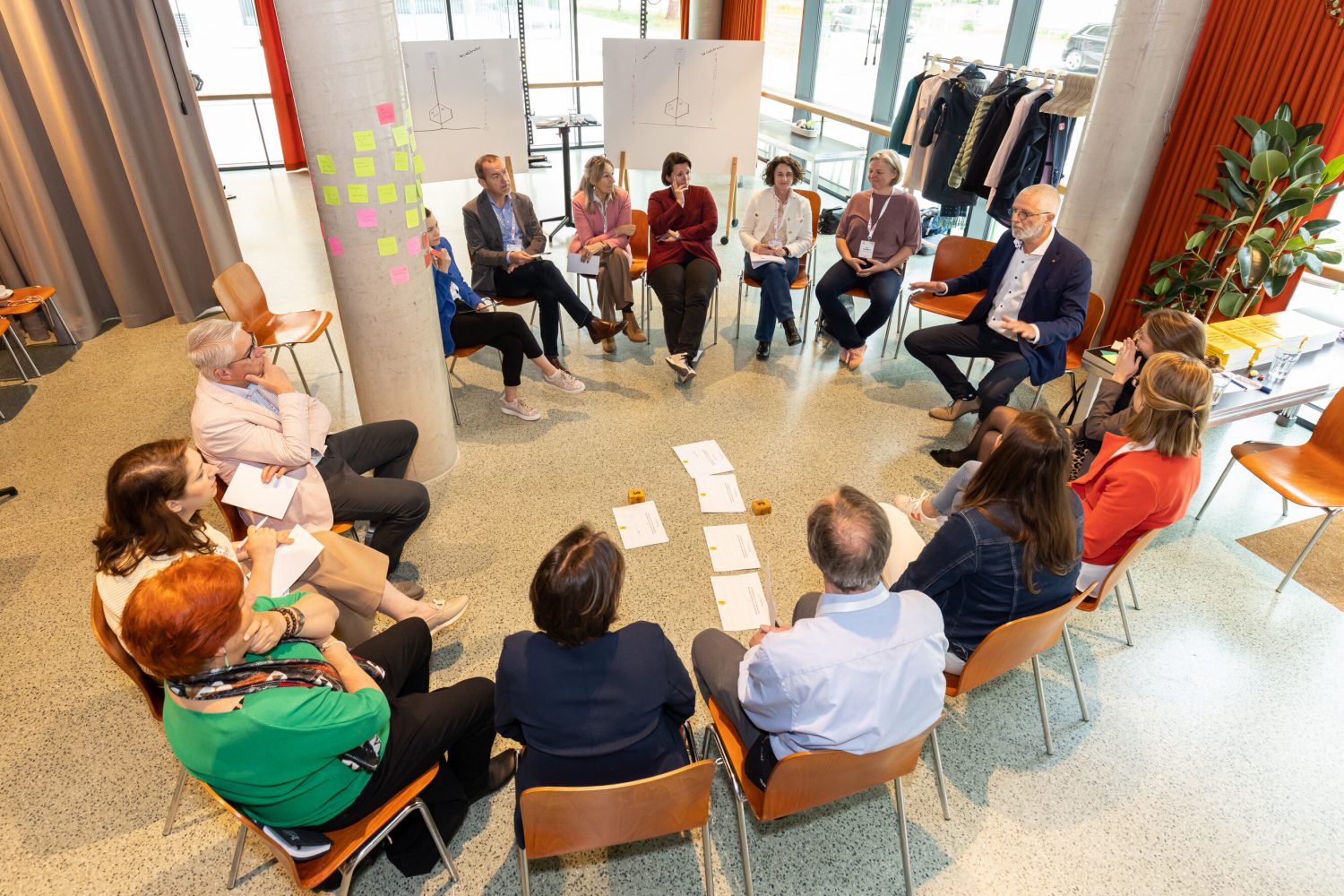 In 2008, the 47th ICCA Congress took place in Victoria, Canada. Back then, Rosa Reyero and Ivo Franschitz met Eric de Groot and Mike van der Vijver for the first time, and immediately connected. Not only on a personal level, but also because of what they do, the way they work, and how they see events, very much aligned with ours. Since then, our ENITED team members have seen Eric and Mike at different occasions, sometimes as participants of an event or conference, sometimes as speakers or facilitators of a session, and even as designers of a meeting, always with their dynamic and innovative touch.
So when they reached out to us at the beginning of this year saying that they had written a book on meeting design (their second one already, in fact) AND were launching it in different cities around the world AND were thinking of coming to Vienna AND needed someone local to support them organize the whole thing, we accepted without thinking twice!
But let's take a step back and look into what Eric and Mike do exactly: Both of them coming from different industries, not necessarily related to event organizing (drama acting and conference interpreting), they soon realized there was something missing in most meetings they attended: programs were designed in an extremely boring and stiff fashion and did not allow any freedom or room for attendees to interact or participate in the event structure as such.
Therefore, they founded Mindmeeting, a consulting company aimed at creating "better meetings (…) that have impact and that leave a sustainable legacy" through the power of meeting design. Moreover, their concept of Meeting Design as "the art of matching the form or format of a meeting to its aims" goes even further than one might initially think, since they view it as a completely independent job from meeting organizing. For them, a meeting designer would equal an architect, while a meeting organizer would be the constructing company. This means that, first of all, a nicely conceived program should be created and consider the aim for the participants, the experience, emotions and feelings they should live during the event, as well as the value and new knowledge they should take away with them once they leave. Only then the event organizer should come in and make it happen by looking for a fitting destination, venue and suppliers, sending out invitations, taking care of registrations, accommodation, sponsors, and all of the bits and pieces we all know too well.
And this is exactly what Eric taught us at the end of April during a workshop that he held in Vienna as part of the world tour presenting the second book he co-wrote with Mike: "Meetings, by Default or by Design". After they first contacted ENITED, we looked for someone to co-host the event and found a good working partner in Salzburg Convention Bureau, so we both set to work to bring in some clients from both sides as participants and find a nice space to hold the workshop.
The workshop then took place for a whole morning on 27 April at the Superbude Hotel in Vienna. Apart from the mentioned focus on meeting design taking into account the purpose of the event and the impact you want to create with it, Eric introduced another element dealing with the fact that nowadays everybody wants to meet face to face, having been forced to meet online for so long in 2020 and 2021 due to the pandemic. He then tried to bring us back to the true core of face-to-face events, to make us rediscover and identify what is really essential and what is a consequence or a side effect when designing an in-person event.
And, finally, there was Q&A time for participants to raise specific concerns or challenges they often faced – many of them were responsible for organizing conferences in scientific or medical associations, which differs a lot from the struggles in the corporate world. Eric here offered his advice to each question and particular situation, and also shared some best practices of different ways in which they gave a twist to a meeting by enhancing the attendee and/or speaker experience and resulting into a much more enriching and valuable interaction.
Now, for me, being new to the concept Meeting Design and getting to know Eric and his work for the first time, I must say I very much enjoyed the workshop and its main message. Even as eventprofs, who deal with preparing event programs and concepts all the time, I believe it never hurts to be reminded of the WHY we organize events and for whom, in order not to become just another one out of many, which our participants could easily spare.
Especially after the "recalibration" caused by the pandemic, where the relevance of events was seriously questioned and long discussed, we should not take the time of our participants for granted and assume that they want to meet face to face at all costs, because I think we sometimes forget about the opposite feeling which many had prior to COVID: "I just attend because I'm paid for the trip", "there are too many events being organized without a real meaning or purpose" and, my favorite, "that meeting could have been an email".
Therefore, in my opinion, the reminder that Eric brought to the workshop about going back to the essence of face-to-face meetings, about really thinking and questioning what really is the naked, basic substance of an in-person meeting, is key to deliver true value. If we integrate this exercise into the conception and design of our events more often, our target audience should not hesitate to participate!